The Jury of the IId International Cartoon and Film-Strip Contest Have Finished the Work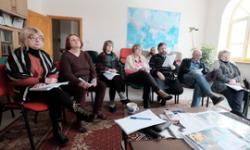 January 31 and February 1, 2017 in the Educational Center of the Belarusian Green Cross the contest jury were evaluating the entries. The jury included the professional artists, educators, animators, directors, editors and journalists from Belarus, Russia and Latvia.
164 works, among them  145 cartoons and 15 film-strips from 7 countries were sent to the contest. Armenia, Belarus, Estonia, Israel, Kazakhstan, Russia and Ukraine took part. But only 133 cartoons and 14 film-strips participated in the contest because of not very strict pre-selection.
Cartoons and film-strips were evaluated ceparatly. Besides cartoons were evaluated in 3 groups - individual, collective nd family works. As a result jury have defined diploma winners and winners in nominationas in every group. Some cartoons were honored a special motion of the jury.
The results of the IId International Cartoon and Film-Strip Contest will be published on our web-site in March, 2017.
The presentation and winners awarding is to take place on April 20, 2017 in Minsk. The winners, who will not be able to be present at the exhibition, will be sent the awards via post before July 1, 2017.