The jury of the 15th International Art and Graphics Contest "In My Homeland" determined the winners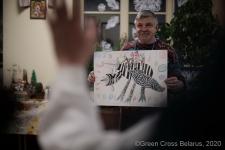 15 professional artists, teachers and art critics from Belarus, Bulgaria, China, Lithuania, Poland, Romania, Russia and Ukraine reviewed the works submitted for the contest on January 29-31, 2020, at the Green Cross Belarus educational center.
This year 10,612 entries from 26 countries took part in the competition: Argentina, Belarus, Bulgaria, China, Croatia, Czech Republic, Germany, India, Indonesia, Kazakhstan, Latvia, Lithuania, Macedonia, Moldova, Poland, Russia, Romania, Serbia, Slovakia, Slovenia, Thailand, Taiwan, Turkey, Uzbekistan, Ukraine, Sri Lanka.
Painting and drawing were evaluated separately in 7 age categories. In each group, the jury determined the medal winners, laureates and diploma winners of the contest.
The results of the 15th International Art and Graphics Contest "In My Homeland" will be published on our sites by the end of March 2020. We invite you to subscribe to the mailing list of the project "In My Homeland" in order to recieve information about the updates on the site (to do this, you need to send a request to the  This e-mail address is being protected from spambots. You need JavaScript enabled to view it. ).
The opening of the final exhibition and winners awarding ceremony will take place in April, 2020 in Minsk. The awards to winners, who will not present at the exhibition, will be sent by post before August 1, 2020.