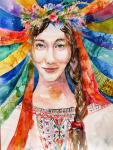 Institution for Creative Development of Young People in Celje, Slovenia invites children and young people to participate in the XXIst International Competition for Young Artistic Talents "Smell Of Paint".
The term of work submission is over
The theme
ETHNOLOGICAL DRESSES AND FOLKLORE DANCES OF MY PEOPLE
Who are my people and what kind of cultural legacy have I inherited? What do we want to preserve for our future generations? The identity of my people.
Select the best, select something what represents your people for centuries, ethnological dresses and folklore dance of your nation. On the reverse side write down the name of the dress, dance, era in which it was important for your people and maybe also write down at what occasions dress was used, dances  were preformed