VII International Biennale of Art of Young «Hobbies and Talents 2018» (Bielsk Podlaski, Poland)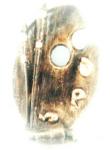 Bielsk House of Culture invites creatively gifted children and youth at the age of 9 to 20 to take part in the VII International Biennale of Art of Young for the goldenб silver and bronze statuette-palette of Mayor of Bielsk Podlaski «Hobbies and Talents 2018».
The term of works submission ends on April 5, 2018

Aims of the Contest:
The development of imagination and aesthetic sensitivity, inspired by the beauty of music and theater.

Exchange of experience, the acquisition of knowledge and skills in the field of various art techniques.

Integration of young people through art.

Popularization of artistic achievements of children and youth.
Term of participation:
Theme of works: Artistic creativity inspired by music or theater

Age of participants: 9-20 years

Each participant can submit no more than three works created in any artistic technique: watercolor, acrylic, pastel dry and oil, collage, graphics, etc.

in A3 format (297x420 mm)

The works will be evaluated according to the following age groups:
9-12 years old

13-15 years old

16-20 years old
The works will be accepted till 5.04.2018 at the address:
Bielski Dom Kultury
ul. 3 Maja 2
17-100 Bielsk Podlaski
Polska
с пазнакай: Pasje i Talenty'2018
The work should contain an appended card with the following information:
name, surname and the age of work's author,

name, address, tel., e-mail

of the institution recommending the work,

name and surname of the teacher or instructor, under whose guidance the work was done.
Please also send a full list of participants from one institution.

The jury appointed by the organizer will select the works for the post-competition exhibition, and also select the 9 best authors, awarding them in each separate age category with a statuette: "golden, silver and bronze palette."
The closing of the competition together with the exhibition of the awarded works, as well as the works selected for the exhibition will be held on 26.05.2018 during the celebration of 39 Days of Bielsk Podlyansky.

For further information, please contact Maria Babulewicz, Chief Instructor of Fine Arts, Bielsk House of Culture tel .: (+48) 85 730 34 14

Organizer of the contest

Bielsk House of Culture
tel.:(+48) 85 730 34 14, tel/fax/ 85 730 85 88
email: This e-mail address is being protected from spambots. You need JavaScript enabled to view it.